Subscribe
Back to Calendar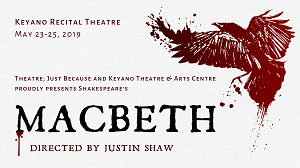 Theatre; Just Because and Keyano Theatre present Shakespeare's Macbeth
Thursday, May 23, 2019 8:00 p.m.
Add to My Calendar
Upcoming Dates:
Friday, May 24, 2019 8:00 p.m.
Saturday, May 25, 2019 8:00 p.m.
Event Details:
Theatre; Just Because and Keyano Theatre present Shakespeare's Macbeth
Category: Theatre
Date: May 23, 24, 25
Tickets: $25
Time: 8:00pm
Venue: Keyano Recital Theatre
Rating: All Ages
Theatre; Just Because is proud to present the classic Shakespeare tragedy Macbeth, in partnership with Keyano Theatre!
A brave Scottish general named Macbeth receives a prophecy from a trio of witches that one day he will become King of Scotland. Consumed by ambition and spurred to action by his wife, Macbeth murders King Duncan and takes the Scottish throne for himself. Forced to commit more and more murders to protect himself from enmity and suspicion, he soon becomes a tyrannical ruler while wracked with guilt and paranoia. The bloodbath and consequent civil war swiftly take Macbeth and Lady Macbeth into the realms of madness and death.

In this post-modern exploration of Macbeth, actors will be working with an abridged version of the text. The action of the play is set in a dystopian post-war society - a kingdom that was faced with the brink of total destruction.