Please note: As per direction from the Regional Municipality of Wood Buffalo and the Government of Alberta, Keyano Theatre is currently closed to the public until further notice. Ticket holders will be contacted for refunds. Thank you for your understanding.
Subscribe
Back to Calendar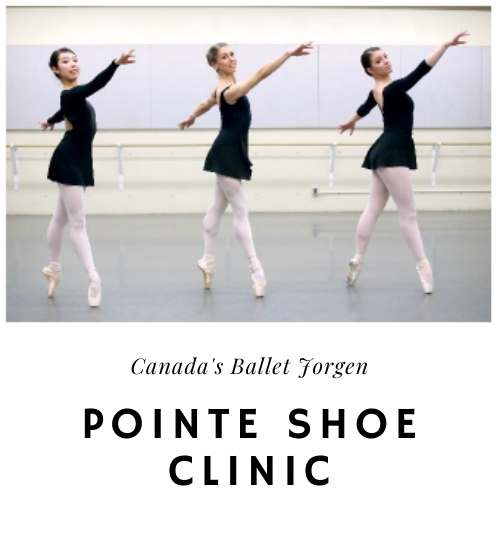 Event Details:
Pointe shoes are so unique – both to the art form and to each individual dancer. It can be one of the most exciting parts in a young dancers training, but along with that excitement comes lots of questions! This workshop provides the opportunity for aspiring dancers to hear directly from an experienced professional dancer exactly what a dancer goes through to have the best pointe. We will talk about everything that goes in to training on pointe – the muscles, the lines, the fatigue, the injuries and more!

How do you:
o Choose the brand, style, size, width, shank, vamp?
o Adjust your shoes throughout your training and a career?
o Decide where to sew ribbons and elastics
o Darn your shoes and why you would
o Make your shoes last longer?
o Manage blisters, toe nails, cracked heels and more?
o Decide what to wear inside your shoes? Tape, ouch pouch, spacers, etc.


Canada's Ballet Jörgen is returning to Fort McMurray, and is bringing some wonderful opportunities for local dancers! Founded in 1987, CBJ works to supports the art and appreciation of ballet and Canadian choreography through performance, education and community engagement.
On March 8, 2020, Canada's Ballet Jörgen performs their newest production Anne of Green Gables – The Ballet™ at Keyano Theatre! Bringing their vast experience to our community, they will be offering a Point Show Clinic, Ballet Master Classes, Audition, and an opportunity for youth dancers to perform in Anne of Green Gables – The Ballet™ as part of the ensemble.
Over the past 30 years, Canada's Ballet Jörgen have produced a total of 229 original creations by 92 choreographers, including eight full-length ballets and five works created especially for children.